YALE UNIVERSITY ART PRESS For Immediate Release GALLERY RELEASE July 2008
SPECIAL EXHIBITION TAKES A NEW LOOK AT THE UNIQUE THEME OF OPTICAL CONFUSION IN PHOTOGRAPHY, OCTOBER 7, 2008–JANUARY 4, 2009
First Doubt: Optical Confusion in Modern Photography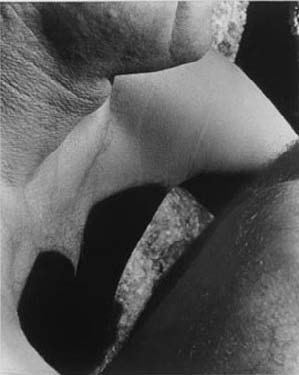 Many photographers have been intrigued by the baffling
distortions—both subtle and disquieting—that can resultwhen the camera "captures" the real world. First Doubt: Optical Confusion in Modern Photography explores thisfascinating yet seldom discussed undercurrent in themedium's history. The exhibition features approximatelyone hundred photographs taken by a diverse array oftwentieth-century photographers, including ImogenCunningham, Lee Friedlander, and Florence Henri andBrassaï, drawn from the collection of Allan Chasanoff, b.a. 1961, as well as from the Gallery's permanent collection.First Doubt challenges the common notion that a photograph is an easily understood representation of what stands beforea camera's lens. By employing unexpected juxtapositions,novel vantage points, and unusual patterns of light, shadow,and texture, the photographs on viewdestabilize the viewer's eye, causing it to question what it isseeing.
During the medium's infancy, many early photographers, expecting their cameras to offer clearand coherent views of the world, were often frustrated by how their images seemed to render the world unfamiliar and ambiguous. In the modern era, a range of image makers began to embrace theseambiguities as unique and valued attributes of camera vision. From the playful experiments of Bauhausartists to the disquieting images of those working out of a Surrealist tradition, many of the photographs in First Doubt were made expressly to disorient or startle the viewer. In other photographs in the exhibition, the artists seem to have stumbled across scenes of confusion quite accidentally.
The exhibition, however, is not one focused on how photographs are made but rather on how they are perceived. As Joshua Chuang, Assistant Curator of Photographs and the organizer of this exhibition,explains, "Neither the strategies, intentions, and serendipity of the photographers nor how their pictures function to confuse remain as critical as the fact that they do confuse—if only for a moment." In KarinRosenthal's Belly Landscape (1980), for example, dramatic shadows and the reflection of sunlight on water seem to form a picturesque desert landscape. A closer investigation of the photograph reveals the dunes tobe a human body, upending the initial illusion of the picture. Chuang adds, "The pictures themselves contain a paradox: they confuse because they holdstill these particular incidents of confusion, yet itis this stillness that allows viewers the opportunityto resolve the optical problem." Rosenthal's image,along with the other photographs in the exhibition,urges the viewer to confront and decipher theconfusions within the frame.
In the current digital era, ubiquitous image-editing software has made it easy to manipulatephotographs so that they appear too good—orstrange—to be true. Well before "Photoshop"became a verb in our visual vocabulary, however,photographs such as those included in First Doubt
resisted the notion that the world could be satisfactorily seen and known through the lens. Collectively, these pictures remind us that the camera is at best an imperfect surrogate for human vision.
Publication
This exhibition is accompanied by a fully illustrated catalogue, First Doubt: Optical Confusion in Modern Photography, with essays by Allan Chasanoff, Joshua Chuang, and Steven W. Zucker, available inhardcover at the Gallery's Bookstore.
Related Programming
A Master Class on First Doubt: Optical Confusion in Photography is offered by Joshua Chuang onThursdays, October 30, and November 13 and 20, at 5:30 pm. To register for the Master Class series,please call 203.432.9525.
Free gallery talks on the exhibition take place on October 8, and 14, and November 11 and 18:
Wednesday, October 8, 12:20 pm: Focus On, "The Challenge of Confusion: The Allan ChasanoffCollection." Joshua Chuang, Assistant Curator of Photographs
Tuesday, October 14, 4:00 pm: In More Depth, "The Troubled Eye: A Conversation." Richard Benson,professor and former Dean, Yale School of Art; Allan Chasanoff, collector; and Joshua Chuang, Assistant Curator of Photographs
Tuesday, November 11, 4:00 pm: In More Depth, "Ambiguity and the Act of Unconcious Inference." Steven W. Zucker, the David and Lucille Packard Professor of Computer Science and BiomedicalEngineering, Yale University
Tuesday, November 18, 4:00 pm: In More Depth, "Using Confusion." Philip Pisciotta, photographer and Lecturer, Yale School of Art
Special Event
Thursday, October 16, 5:30 pm: Lecture, "Magical Nominalism: Photography and the Reenchantmentof the World." Martin Jay, the Sidney Hellman Ehrman Professor of History, University of California,Berkeley
Exhibition Support
Exhibition and accompanying publication organized by Joshua Chuang, Assistant Curator of Photographs, and made possible by an endowment created with a challenge grant from the NationalEndowment for the Arts and the Florence B. Selden Fund, with additional support provided by Mr. Allan
K. Chasanoff, b.a. 1961.
Yale University Art Gallery
The Yale University Art Gallery, America's oldest and one of its most important university art museums,was founded in 1832, when patriot-artist John Trumbull donated more than one hundred of his paintings to Yale College. Since then, the Gallery's collections have grown to number more than 185,000 objects, spanning the globe and ranging in date from ancient times to the present day. The Gallery is noted for itsimportant holdings of Greek and Roman art; early Italian paintings; later European art; American art;Asian art; African art; art of the ancient Americas; and Impressionist, modern, and contemporary works. The Gallery is currently embarking on the next phase of its expansion project, scheduled for completion in2011, which includes the renovation of the Swartwout building and Street Hall, the two historic structures adjacent to the recently renovated Louis Kahn building.
Located at the corner of Chapel and York Streets in New Haven, Connecticut, the Gallery is open tothe public free of charge: Tuesday–Saturday 10:00 pm–5:00 pm, Thursday until 8:00 pm (September–June); Sunday 1:00–6:00 pm. For additional information, the public may visit http://artgallery.yale.edu, or call 203.432.0600.
For additional press information, please contact Ana Davis, Associate Director of Public Information, at 203.432.0611, or ana.davis@yale.edu.
* * *